So you are interested in working for DontHaveTime?
AWESOME, we are so happy to have inspired you to consider us as your next employer!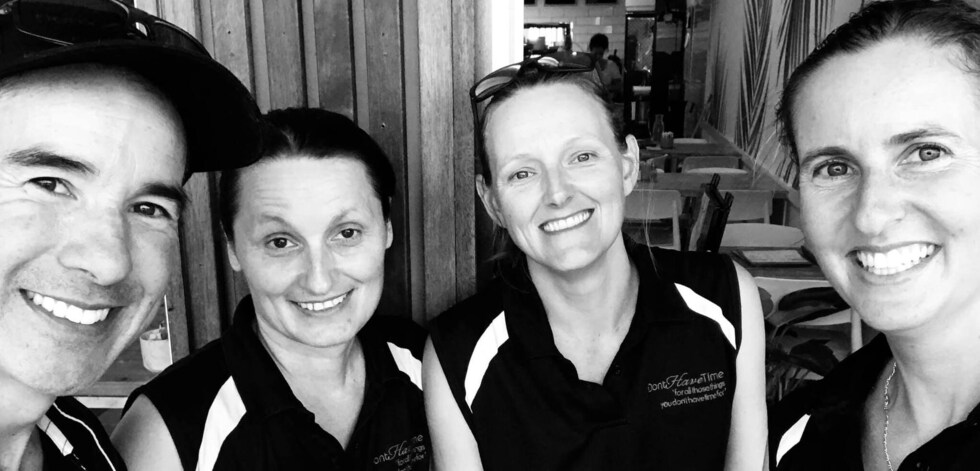 Love appreciation, being fit, helping others, flexibility, and being well paid?
DontHaveTime
Gosford & Central Coast
Trades & Services / Cleaning Services
$30 -$34.99 Per Hour, Casual / Vacation
I'll be as quick as possible so as not to waste more of your time, but here is an overview of the job to ideally help you decide if you really think you would be perfect for it & some FAQ's I get asked regularly at interview time.
I hope this will help you decide if you really want Jenny (that's me) to call you back for a phone interview, where she will ask a few questions to see if you could fit our team to enable you to attend a trial.
Wearing a clean uniform every day (we provide you a DHT shirt & a jacket), you simply wear black leggings, comfy
shoes, ensure you have food & ample water for your one to two shifts.
Greeting the client professionally
Cleaning/tidying/organising client's home ( we will train you on how we clean & what products work where)
Other tasks include: decluttering (we will train you), ironing, making beds, window cleaning, and managing clients household needs (maybe it's changing the water for the cat), maybe it's clearing old food from fridge before they
return from holidays, maybe it's washing clothing, putting clothing out of machine and onto line, bringing washing in if dry before rain hits, folding and putting away washing, and organising clients home.
YES you will be cleaning toilets and hugging them to get to the back!
YES we clean inside and outside of microwaves, our standards are high, but again we will train you!
TIME MANAGEMENT is a skill, you can learn it, but you will need to practise it if you have struggled with it in the past!
Keeping your cloths clean, & ensuring equipment ready for action every night (for the next day)
To have an android/iphone that has access to reasonable amount of DATA to ensure you can access the online
apps that enable you to clock on and clock off, access important information in relation to your clients' job, along
with being able to access our online job sheet creation program.
To Align to our Business Values below
Have a love or a desire to help others is so key… caring about what you do is really why our team is so amazing!
DontHaveTime Values, Standards & Policies
DontHaveTime prides itself on these values:
We care for others
We are conscientious
We are proactive
We are ethical in everything we do
We are professional
We are meticulous
We are hard working
We are honest
We are great communicators
We are supportive
We are always able to find ways to improve
We are respectful
We keep our jobs confidential
We are flexible
We take care of ourselves
We are great listeners
We are trustworthy
Frequently Asked Questions
Will I be given a kit?
YES once you have completed your training & are working confidently on your own.
Pay rates, do they include travel?
Legally we have to provide you with travel time, but instead we pay higher rates to accommodate this, and do our very best to give you as local work as we can that we have available to minimise any out of pockets to you. But while you are in training, and still getting your feet we obviously only can provide you work we have, and sometimes that may mean a 30 min drive between the two jobs you do.
Will I need my own car?
Yes you need to have a reliable, registered vehicle as you will be carting equipment to sites.
When will I be paid?
Weekly on Thursdays – no we don't pay cash, you receive a payslip for working for us, and tax is taken out if required, and super, workers comp all paid.
Is this casual or parttime?
It is casual position, however we are open to part time contracts as well, but from experience most of our staff want the higher rates so like casual. Most of our work is highly labour intensive, so doing more than 20 hours is tough! We are also open to contractors, which for some help keep the right $$ on the table for their families & enable them to work for other people or find their own clients on top of what we provide them. But we prefer employees for their loyalty and consistency within our business is what we ideally want!
Where will I work?
You will work where our work takes you, we are central coast based but we do work from Mount White up to Lake Munmorah. But majority of our work is based around Gosford, Lisarow, Narara, Point Claire, Woy Woy, Avoca, Bensville, Saratoga, Kincumber, Terrigal, Wamberal, Forresters beach, Long Jetty, Berkley Vale, and surrounds. Most of our work is weekly or fortnightly, so you get to know what your clients like and really take care of them!
What hours do I need to work?
We work usually 9-930-to 2pm through to 4pm (it really depends on where your childrens school is to what time you finish and if you have after school care arranged). We do however have other jobs that are before and after hours, so let us know if you are interested in other time slots as well. So if you are someone who would like to do 2-3 long days instead of 5 days (and can manage that) we can organise this for you. We choose not to work weekends, although one job is a Sunday night, majority of our work is week day only, because WE don't want you phoning us on weekends 'can't find key, you break something, or you are ill'. So know weekends are for family and relaxation.
Do I get a lunch break, or a break between shifts?
If you request more time between shifts (as maybe you don't need to worry about fitting more paid hours into a shorter timeframe as you don't have kids to pick up at 230pm etc) absolutely you are welcome to ask for a 1-2 hour break between shifts/jobs. Some of our DHT family who have injuries found this helpful to give their body time to rest, others because they wanted to still enjoy lunch with a friend, did this on certain days to enable them to still enjoy lunch, others chose to do this because they didn't want the pressure of meeting a timeframe from one job to another. We are happy to accommodate, so long as our clients' schedules aren't adversely affected by doing this & obviously looked after to standard or better. So let us know! But usually we just eat a banana or a museli bar with our bottle of water between jobs. NOTE: you can drink water while on site, and food too if you need to. Often I will will sneak a bite of my sandwich or banana as I come back to my kit when I am hungry. Do what you need to keep yourself powered to look after our clients' homes (you won't have time to eat a kebab or sit down for a hot meal though but you get what we mean).
What if I have little kids and can only work 2 days a week?
If you are the right person for the role, you can still work for DontHaveTime, but ideally we prefer those who can be available min 3 days, even if you are only working regularly 2 days, with 1 day available for last minute work, or helping us out where other staff are sick or away on holidays. We are flexible for the RIGHT employees!
Do you allow holidays?
Yes, advance notice always appreciated, and where multiple people 'especially school holidays concerned' you may be asked to change the week you take leave to accommodate others who have taken that week off, so we can cover our work, (as we run business flexibly for all), we appreciate it.
Do you have set holidays every year?
YES … regardless of what leave you take during the year, we shut down as an entire business from Christmas Eve 1pm through to first week back in January. This enables Jess and Jenny to take a break from phones and emails as well as giving everybody a Christmas. Needless to say we don't do many holiday homes because of this.
I have physical health, or mental health issues, can I still work for you?
Yes of course, we have mental health policies in place, and for injuries honesty is key so we don't make things worse, however some mental health and or physical injuries would possibly exclude you from this job, so please talk to Jenny up front before you start the route of applying to be sure.
Is age an issue?
No, it's whether YOU feel you can safely, consistently do this job and how many hours you can do it without hurting yourself and still maintaining the high level of standard DHT keeps.
Can I still attend my childrens' assembly items or make appointments?
Yes, we suggest using your days off to organise appointments but if given notice we can help by moving jobs around to allow you to see your daughter's assembly item or athletics carnival, AND or attend specialist appointments. The rule is 'give and take'. So it must go both ways.
Is it only a job for females?
No, we have many males who work for us, single dads, dads looking for more time with his kids. So if you feel you have the skills and want this type of work, definitely apply!
 Also if you are good up ladders, extra awesome, we have more work for you if you are!
Part time or Casual?
Good question, Part time is a very rigid system, and our business is rather flexible, which is why people love working for us. So although we can and do offer Part Time, you may find it realistically isn't what you wanted, or we can provide fixed. We would only be willing to entertain those who commit to a min 20 hour a week to do this. But we may need to vary your contract as time goes on, as in our industry clients will leave us, and we will find another client for you to fill the spot, but that may leave you two weeks short on that 3 hour client until we locate you another. Thus voiding our part time agreement with you, and you with us. Because the role is rather changeable. Definitely feel free to ask us if you really are looking for part time, note: it is less than casual rates, but if you add in the holiday/sick leave it will bring you closer to the casual rate, as these rates are meant to. From experience, most of our staff have been offered part time rate, prefer the higher rate and the flexibility they receive from being a casual. This by no means loses your job security, legally casual workers have similar protections as full timers after 12 months. It's just the way we structure our weeks and manage our clients needs.
What if I smoke, how do you manage my needs?
We understand some of our staff do smoke. We just ask that you don't smoke in your DHT shirt as it will leave a strong smoke scent within the fabric and your clients will notice you have been in their house, as those who aren't smokers can smell it even if you aren't there anymore. This smell sadly will detract from the clean you have just completed for that client. And although no breaks are specifically given for smoking needs, if you are working on a job longer than 3 hours and need a quick smoke, please ask permission from the client if they are there to do so, and ask where you may throw your butt out, as many people don't like them even in their bins due to the smell they leave. So we would suggest keeping something in your car to take them home with you.
If all of the above rings true to you, and you are happy with what you have read, plus you are confident you align with our values & tick the boxes above, please go through the process to apply…. and I look forward to speaking with you soon!
SO YOU STILL want to go ahead … what is the process to show you are super keen?
The process to apply for one of our roles that we hope in turn will provide you the life you are looking for, AND our clients the one they desire is…
Email jenny@donthavetime.com.au with why you feel you would be perfect for this role and why you want it?
Include a copy of your photo licence (you can scribble our the licence number we don't need that) & the hours/days you can work along with a brief history of your work (note: if a mum for past 5-10 years write that up, and the last job you had before you became a mum).
Jenny will contact you for a phone interview
If you are successful, Jenny will offer you a trial, it is unpaid. The trial will help you be SURE this is for you, and us sure you are the right fit. It will cover basic standards/methods & products & help us decide if you are worth investing in as we are keen to hire people that have a long term view to working with us. As the next steps DHT invest time, money and equipment in getting you completely confident in the industry that enables us to continue to have flexible work around our families, and give them time back.
GOOD LUCK & I am looking forward to seeing your application!
Yours kindly,
Jenny White
jenny@donthavetime.com.au
0413148637